Dakota Needles Climber
|
home

The Needles in the Black Hills of South Dakota
The Needles are located in Custer State Park, near Custer, South Dakota. This state park is one of the largest in the United States. Besides excellent rock climbing it also offers hiking, wildlife viewing and fishing. The Needles are in the northern portion of the Park, with Sylvan Lake being the focal point for climbers.
The Needles has a long history of traditional climbing. Fritz Wiessner stopped in the area, in 1936, on his way to do the first ascent of Devil's Tower in Wyoming. A pair of climbers from the East, Herb and Jan Conn, came to the Needles in the late forties then eventually moved to the area and called it home. The Conns did most of the early development of the area with a goal of reaching the summits of each spire. The Conns made over 200 first ascents.
There were several others that would stop in each summer during the sixties and climb with the Conns. Some of these climbers include Doc Laptad, Bob Kamps, Mark and Beverly Powell, Dave Rearick, Royal Robbins and John Gill.
The seventies saw another group of local climbers to emerge. This group included Paul Muehl, Mike Todd, Mark Smedley, Pete DeLanoy, Dennis Horning, Bob Archbold, Paul Piana, Jim Slichter, Kevin Bein and his wife Barbara Devine, Mike Engle, Vern Phinney and Ron Yahne. Along with this group a very special group of summertime guest would come each summer and some would stay all summer to climb Jim Black, Howard Doyle, Todd Skinner, Marshal Rose, and Don O'Kelly to name a few.
The Needles has been a long hold out for traditional values of climbing, especially in the style of first ascents. Routes were all done from the ground up placing protection bolts while on lead from natural stances with no forms of aid. Paul Muehl would say " Any of us could beat the rock into submission, but we need to meet the rock on its terms".
In the seventies we were young and lived just to climb. Our lives seemed to revolve around going climbing. First we tried to get ourselves up some of the areas classics, then some of the already established test pieces. It came time that we explored our own new lines. We were going to try to create our own works of art and the rock of the Needles was going to be our canvas.
Some of the classics I recommend: Tricouni Nail, Classic Crack, Conn Diagonal, Spire Two, International Chimney on Spire Three, Spire Four the Worm Hole Route, Hang A Right at Fourth Avenue, Conn East Gruesome Route, Tee The Ball, Four Little Fishies, Just Another Pretty Face, Three Rings for the Elven King, Vertigo, Super Pin, Hairy Pin, End Pin, Needles Eye, Moonlight Rib, Goldline, Nantucket Sleighride, and Intercourse, just to name a few.
A note during the prime tourist season: between Memorial Day and Labor Day, do not climb the Needles' Eye or the Thimble between 10am and 5 pm. This was an early gentleman's agreement with Custer State Park so they would not close climbing entirely in the Needles' Eye area. Climbing from the parking lot creates alot of congestion of people and cars, not to mention the Grayline buses.
A collection of photos from twenty-five plus years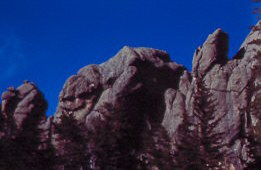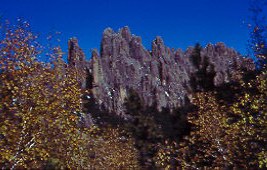 Aquirium Rock The Cathedral Spires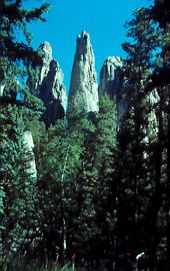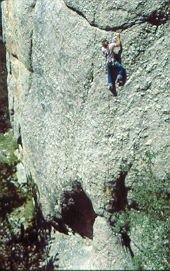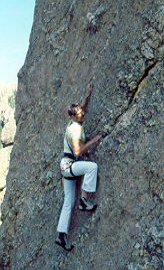 Khaayym Spire Bob Archbold Paul Muehl
"Four Little Fishies" " Trojan Determination"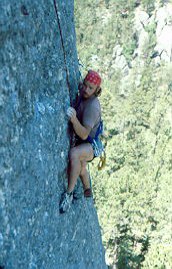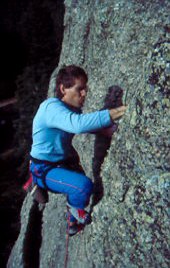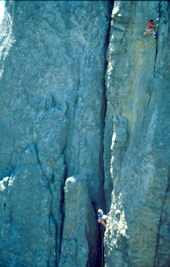 Jim Black Mark Laub Bob Archbold
" Every Which " Just Another " Hang a Right at
Way But Loose" Pretty Face" At Fourth Avenue"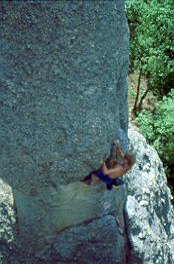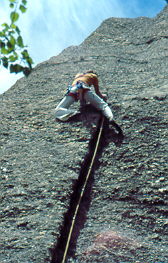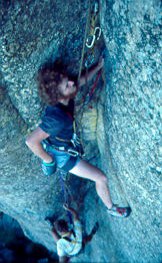 (I can't remember) Mike Engle Pete Delanoy
"Superpin" "Nantucket "Shedded Feet"
Sleighride"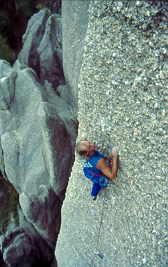 Rob Hess Rob Hess
"Nantucket "Nantucket
Sleighride" Sleighride"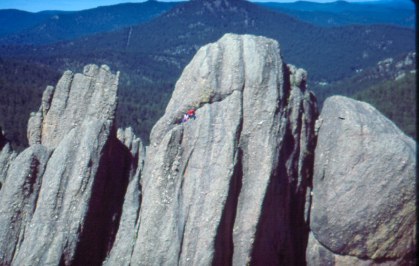 Climbers on a route known as "Geriatrics"